written by Rene K. Mueller, Copyright (c) 2005, 2006, 2007, 2008, 2009, last updated Sat, January 3, 2015
Yesterday and tonight is snowed over 55cm - more than ever as recorded history within such a short period of time (24 hours) here in Switzerland and the area I live, instead of mild temperatures we got a lot of snow, beautiful!
Temperature wise it's around 0°C, the snow did slide down the roof during the night, at day I forced it by punching to the roof from the inside. For a felt roof such a night with so much snow might have caused a breakdown of the yurt, and unlikely the snow would have slide down by itself.
We got snow again, 10-20cm in one night; during the next the day temperature arose to 5°C, and inside of the yurt I've got 25°C without heating the stove. Until 18:00 I didn't heat the stove. Question is how the interior temperature is in spring time, or summer time, whether it will be too hot.
Aprx. -10°C at night, and 1-2°C at the day; a few days ago it got snow again (~ 20-30cm). At the weekend I fired the stove again all day. With bright sunlight the interior got 30°C at 1.50m height and at the ground 15°C. Only at the evening after sunset I had to actually fire to stove to heat up the yurt, and then the ice on the roof melted, not as fast when I still had two insulation layers, but it stills melts; means, the insulation isn't yet good enough. It won't make sense to add more 0.5cm thick bubble wrap layers. One idea I've got from another web-site is to use plastic bottles between layers to have more air as insulation; or I go for "jumbo" bubble wrap with 3cm large bubbles, and 1-1.5cm thick. The option with felt is also available, but this would imply no daylight interior anymore in the yurt. So, I definitly need to test more in this regard.
The last weeks the temperatures have been at night -6°C and at day 2-3°C. I have been in the yurt only at weekday nights and at weekends all days, so I didn't fire the stove that often. As wood burned so fast, actually too fast and I used a lot of it, I changed to brown coal to fire the stove: it burns slower, and last much longer (over 16 hours). If I had a larger stove (and less transportable) wood would be better, also more ecological. I will look for other stoves to use "pellets" (pressed woodshred) and see if controlled and slow burning to deliver steady heat exists.
With the four layers of insulation the ice on the roof doesn't melt when I have heated the inside of the yurt, good sign.
Here a few contemporary photos of the yurt's interior. The photos are a bit blurry as they were taken without tripod, but I thought I still put them online as they give an impression how it is at night in the yurt: a wonderful experience.
I finally finished the 2nd additional roof layer (7.4m + 2x 6m + 2x 4m patched with the left over of the previous roof layer). Now I have
rain-cover (PE, 180g/m2) (outmost layer)
double layer bubble wrap (5mm bubble, apprx. 7mm thick, with foam layer)
double layer bubble wrap (5mm bubble, apprx. 7mm thick, with foam layer)
single layer bubble wrap (5mm bubble, apprx. 5mm thick)
single layer bubble wrap (5mm bubble, apprx. 5mm thick)
raw cotton canvas (interior)
For the wall I have the bamboo wall in between the last bubble wrap and the interior cotton canvas, which gives 2-3cm air space as insulator. For a future yurt I will use heavier and stronger cotton, which might work better.
This morning I had 5°C inside the yurt, outside it was -8°C, so it seems the 3 layers I had (without the 2nd layer I put up today) it was able to insulate 11°C totally; with the 4th layer I put up I assume it will be more, I will see tomorrow morning.
It's 17:30, the sun has set, -6°C outside, in the yurt at the floor 6°C, at 1.5m height it's 17°C; and I fire the stove currently with the fan turned on (to push the hot air from the roof downside); after 2-3 hours finally the floor temperature raises as well to 12°C, and at 1.5m height it's 18°C. Now the next morning (9.1. 2006) I had 0°C inside and outside it was -10°C, the stove fire was out of course, so the insulation was able to hold a difference of 10°C - that's looks acceptable for the rest of the winter.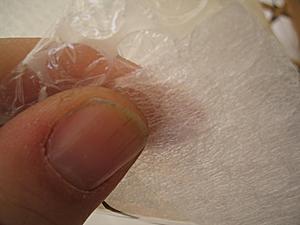 Double Layer Bubble Wrap
I ordered last year 2x 100m long x 1.5m wide bubble wrap (CHF 180 without transportation), composed by two sublayers: one sublayer the bubbles, and one sublayer foam - making up one compact layer of bubble wrap; this way I use two layers apprx. 1.4cm thick then (0.7cm thick each). The wall I added already (2x 20m x 1.5m), the yurt isn't as bright anymore, especially the foam seems to be a good insulation but also withholds the daylight. Today I add the two roof layers (7.4m + 2x 7.2m + 2x 6m) patched together to form the circular roof; I was only able to put one up, the 2nd additional layer I patch tomorrow put it up then.
Since 4th January I'm also without Internet connectivity as the deal with one of the neighbours expired, and having a cable through a little opened window wasn't suitable for him anymore - so, I will update the site once I get access to the net again (doing two paying networking projects currently so I have access there, just not in the yurt anymore).
We had -14°C this night, and in the morning my tea in the bottle was frozen, it was maybe -5°C in the yurt. I had to leave to Zurich, in the afternoon I bought wood and tools for building . . . another yurt, actually I like to build two additional ones. A large yurt with 9.45m diameter (28 feet), and a crown-wheel/toono of apprx. 2m diameter; the roof poles will be roughly 4.2m long, bamboo again to build again apprx. 25° roof angle. I also bought a table saw where I can do the crown-wheel segments, 12 segment polygon this time; I use the yurt calculator again to get all measurements.
The next days the temperature will rise above 0°C and I hope I can add the new layers of insulation material, as right now the roof and wall is icey and I didn't want to untie it until all ice is melted.
I received a visit from a friend, working on a web-site of his, and I also bought stuff for the interior of the yurt using the bicycle (recumbent) with a trailer, the roads uphill were icy. I also ordered more insulation material (bubble wrap, 10mm bubbles, 7mm thick, 150cm wide, 100m long), and will arrive 23th December, I hope to add two additional layers during Christmas and New Year - but I actually consider Winter Solstice a more important day than the other two holidays, but that's another topic. Anyway, I just felt to write a few words on this for me special day.
Content: