written by Rene K. Mueller, Copyright (c) 2005, 2006, 2007, 2008, 2009, last updated Sat, January 3, 2015
Straw Filled Blankets
I'm doing my first jute blanket filled with open straw:
preparing myself a handmade wodden needle to sew with 2mm cord
sew two sides, one side is folded, one side remains open (340cm x 180cm)
hang up "bag", and fill with open straw, for now one bale of straw (100cm x 46cm x 35cm), closing bag by sewing last side
lay on the ground and distribute straw evenly as possible (320cm x 160cm)
start to sew lanes (lengthwise compartments), 4 lines per 160cm width (each apprx.35cm) as I don't really need horizontal compartments since I hang the blankets, only vertical move prevention.
As a brief preliminary summary: 1 strawbale (100cm x 46cm x 35cm = 0.161m3) opened gives 10cm thickness of 5.28m2 (flat from 6.3m2), width and height decrease of apprx. 20cm. I intentionally did 160cm height (extra 10cm) to my 150cm wall height, to have some left-over. More details I will add once the blankets truly work (hanging) and include the data in the Yurt Notes then as well.
First Snow Flakes
A few snow flakes fall from the sky in the morning, at 3°C., inside the yurt 11°C with a bit overcast sky. During the afternoon clear sky again and warm due direct sunlight - wonderful day again to work ouside. 17:00 sunset, and it cools off quickly to 0°C, inside the yurt still 12°C but still without thermal insulation expected to drop quickly as well.
First Kitchen Experience
A brief update on the kitchen, I still need to cut a large plank for a kitchen table, for now I use a smaller pressed board without water resistant surface (really preliminary). I found a microfiber cloth, which helped me to clean my dishes without any soap, I heat 1/2l water, and pour into a bowl and use the microfiber cloth to clean dishes and pots even when they are oily like when I cooked with oliveoil - it's easy way to clean dishes this way. Since I can use electricity up to 6A, electric stove with two heating plates uses 2200W, and a water cooker (built into a mug) 1800W - but I can't use them together which isn't truly necessary. So I usually heat up water for tea and bathroom usage with heating mug, and cooking otherwise with the electric stove.
Preliminary Bathroom
I use another bowl to wash myself, 1/3 cold water, 2/3 hot water, and use an oldfashion washlobe for the entire body. Without running water behaviour really changes, and water becomes something precious to not waste careless - even without thermal insulation and temperature around 0°C (without using the stove yet which I start once all thermal insulation is put up) I like the setup and site here and consider it as a gift to be here. Once I'm done with the thermal insulation I will work on the interior shower, which will give some luxury using a simple camp shower (black bag) and shower floor and some bubble-wrap as shower curtain to keep things really simple.
Photos of kitchen and bathroom which I actually combined will follow later once I'm really complete with all.
Another Sunset
A brief 360° video clip in front of the farmer's house, just apprx. 100m from my yurt site. I'm aware some moments cannot be capture, with no device - it can only experienced first hand.
Sunset in Oberduernten (Switzerland)
This morning, -2°C outside, and likely inside around the same without winter thermal insulation - my digital desk thermometer in the yurt shows 0.0°C, likely doesn't measure below 0°C.
Clear sky again, but once the sun hits the yurt it will warm up, around 13:30 18°C with open door. My ordered materials (bamboo & jute) for the winter thermal insulation and attached room arrived this noon, so within the next few days I will do the blankets, and thermal insulate my yurt for this winter which temperature-wise has arrived already at least at night.
5m or 1/4 of the total wall circumference I did with bubblewrap (8x single layered), these will operate as "pseudo window", where I hope some daylight will enter. The other 3/4 I will do with jute blankets filled with open straw as next. Finally then the roof segments (pieslice-wise), whereas 1/4 will be done with bubblewrap as well, and 3/4 with jute blankets with straw.
I'm not yet finished with the kitchen and the interior shower for the yurt, also majority of the interior isn't setup completely, once done photos will follow.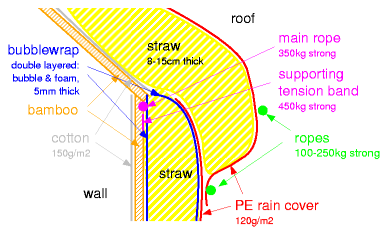 Winter Setup Details (2006)
This will be the details of my planned winter setup with straw filled blankets. The wall parts, such as
wall interior cotton
wall straw blanket
wall bubble wrap
are tight on the main rope; the wall rain cover I like to fixate separately - whether this works or not I will see, optionally also take the wall bubblewrap from the main rope away with the wall rain cover.
The roof layers remains more or less, the straw blankets are in pieslice-wise form, this way I can fixate the segments better on the crown-wheel and prevent from sliding down due their own heavyness.
This morning I had 6°C at 8:00 inside the yurt, and at 10:10 the sun hits the yurt, and 15:00 peaks at 22°C - in 2-3 days a temperature drop is expected, and actually the first snow for this coming winter season, odd enough, extremely mild or even warm October, and now a sudden jump into winter time, let's see.

Tonight it lifted my rain cover and actually flew away as I only used one rope instead of the usual two ropes to fixate it - at 3:00 I had to put it back and fixate it better, and then it started to rain and to my surprise I realized the rain cover has leaks, apprx. 30-40 tiny holes, which only revealed themselves with steady rain (I had rain before at the new place when it did not leak), since I disposed the porous thermal insulation the rain water run on the cotton, and from there dropped steadily on the wood floor - very bad. Fortunately the rain only lasted 3-4 hours and today strong föhn

wind came again and this evening cloudless and mild weather again. Since the new place is very open, as you see in the panoramic photo below, especially the föhn from the south is hitting the yurt hard.
So I will make one layer of waterproof thermal insulation using two layered bubblewrap, in the knowing it won't last for more than 10 months under UV radiation. As a conclusion, the PE rain cover (180g/m2) is UV stabilized, yet, already leaks after 12 months significantly, and isn't useable without additional layer for the rain cover truly, very surprising. I'm not sure whether I go ahead using PE roof rain cover for the future again, for the wall it seems to last better.


Golden October 2006: A Panorama
The last days we had exceptionally mild days, up to 22°C, and I even had to find a spot to put the food which requires to be cooler. I consider to dig a hole in the ground to make an earth-based refrigerator.
The PE rain cover I was able to clean with cold water and a piece of cloth easily - especially moss which started at the bottom in the fold, with cotton-based fabric this could be much more challenging.
I still work on the interior, different setup as before as bathroom and kitchen is added, and likely one desk removed, additionally some of the shelfs are shortened in order to be able to move them closer to the wall than before.
Also net connection is already available (usually takes several weeks here in Switzerland), via ADSL and wireless link from the house of the farmer to my yurt, apprx. 100m distance - which I will install tomorrow. This also meant I moved the rest of my stuff, server and workstation to the new place with my small bicycle trailer full packed.
And finally tonight I took my first solar shower at the new place, a black plastic bag essentially warmed up during the day, I only filled it 1/3 (apprx. 7 liters) and still has apprx. 3 liters left. The day was warm enough to heat it to apprx. 25°C or so, my estimation. In the winter time I will use this bag and fill it with mixed 1/3 hot water and 2/3 cold water to shower that way; I have a shower floor (with drain) which I will extend then.
Content: