When exploring the website you will discover quite some programming work, e.g. the interactive parts where you can calculate canvas or entire structure of different shelters I feature.
I first thought to use software solely to visualize all the models I had and still have in my mind, but then I realized for myself it's required to do real models, in my case I use cheap bamboo sticks (40cm, 4mm diameter), cable binders and clear PVC pipe (inner diameter 4mm), and feeling the tension while I bend the bows, or fixate sticks together which later will be 3 to 8m long poles or bows. It gives you a direct impression of the static, which normal visualization software cannot provide. And it is fun! And when using a photocamera to make some photos in the right perspective and background you also get a sense how a full size shelter will look like.
| | |
| --- | --- |
| Variants of Bow Dome, Models (1) | Variants of Bow Dome, Models (2) |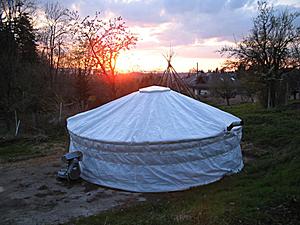 My 6.4m (19.4') Yurt, April 2006
Admittedly I didn't build a model for the
yurt
which I actually built in full size fall 2005 - well, not sure I just disproved my point above <smiling> - but I did a lot of research beforehand, including visiting people who built yurts themselves, and explore and take photos of the details in order to get a sense of the static which otherwise can be explore with models.
So, the most fun of course is to built full sized version of the models.

In case of geodesic dome I just did this, the 4V version with 250 struts:
| | |
| --- | --- |
| 4V Geodesic Dome Model (0.64m diameter), (September 2005) | 4V Geodesic Dome Skeleton (6.35m diameter), (March 2007) |
In this particular case, the measurement and overall impression I was able to explore beforehand, but not necessarly the details of the connectors of the struts, which I explored with 1:1 scale tests like this:
In this sense - enjoy building models and full scale variants!

(End of Article)
Content: