written by Rene K. Mueller, Copyright (c) 2006, last updated Mon, October 8, 2012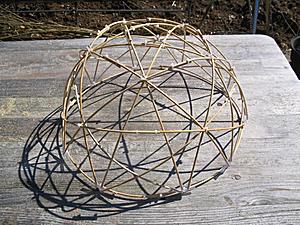 Star Dome Model with bamboo sticks
I have still some thick bamboo (2-2.5cm in diameter), and I tried to split it 4 times, but with a knife it didn't work that well and the resulting splits were very uneven. So, I used again my 40cm long and 4mm prefabricated bamboo splits (bought in a garden shop). I tied with with plastic cable binder, no glue.
The resulting bows where 40cm x 2 - 5cm as junction: 75cm long.
As next I did the layout, forming the pentagram and the pentagon around: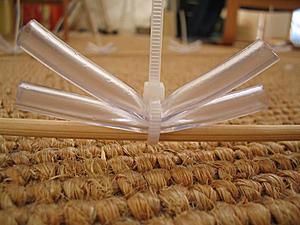 PVC junction/connectors
Therefore I required a 150cm long circumference as base, where the bows will be attached as well. On the base I added two PVC tube, making 4 connectors, actually I only require for the star dome 3, but I may use the material for another model later.
Then I began to put all the open bows to the base:
As next the 3rd bow for each base need to be attached as well, first I made it go outside of the existing dome, but it didn't fit, so I put the 3rd bow inside to form a better dome (the sticks are hard to bend and rather stiff), the result was a much better dome then.
canvas calculation: how much canvas do we need for the pentagon/triangle based cover?
Scott Ford ([email protected]) shared following:
"We used the star dome as a shade shelter for the week at Burning Man (2012). We had a 25 foot diameter parachute stretched over the skeleton. 16" pieces of rebar, driven into the ground, were used to anchor the dome. As a temporary shade shelter the star dome worked perfectly. It took a little over 2 hours to put it up and about an hour to take it down. All of the parts, except for the cable ties, were salvageable and can be used again. It is relatively light-weight (less than 100 pounds for the entire kit). It withstood sustained 45 mph winds with no issues.

We made a couple modifications to your design. I used the 16 GA aluminum plates to tie the ends of the bows together and to the base with dry-wall screws. We tied every intersection together with cable ties (where four bows intersected we used two heavy-duty cable ties). This was key to achieving the rigidity required. Using 30 foot bows provided openings that I felt were too small; I had to duck to get through them. We created a larger door by cutting two of the bows and bolting the ends at the intersection.

If we use this again I would have a larger tarp for the floor. I would also get a larger parachute and modify it to more closely fit the skeleton and have zippered openings.

I still have a complete dome skeleton in my yard. I have planted wisteria around it and hope to have it covered with flowering vines by the end of next spring. I will keep you up to date as this longer-term test progresses."

(2012/10/08)
StarDome.jp , original site, with detailed "blue print" as pdf, with a lot of photos of applications, highly recommended of course!
Dome Home , Tribe.net online community
(End of Article)
Content: