written by Rene K. Mueller, Copyright (c) 2007, 2014, last updated Tue, January 20, 2015
As I proceed I will update the diary. Most up-to-date entry at top, first and oldest entry at the bottom respectively last page.
Well, last night it snowed a bit, about 3-4cm rather light snow (as compared to heavy humid snow), but it was already enough to collapse the 2v geodesic dome with 25mm PVC. To be more precise, my attempt to make the wire-based hooks open before the struts break did not work - too weak or too elastic the PVC struts are, and too brittle they become at lower temperatures.
So, I detached the canvas from the skeleton and folded the skeleton outward again, and fix the broken struts again later and wait until spring before I re-attach the canvas again.
As a side note, the LC Dome did withstand the snow fall.

Yesterday it snowed again, quite humid and wet snow and I observed the snowfall carefully so it would not collapse again. A geodesic dome is quite stable, given good struts are used, and using PVC pipes as struts aren't that stable as earlier entries of the diary show. Anyway, I pushed down the snow once yesterday and some snow froze during the night on the canvas.
Using PVC pipes for geodesic domes with any canvas is not suitable for winter time with snowfall, and if you decide to still use it with snow, constant supervision is a must.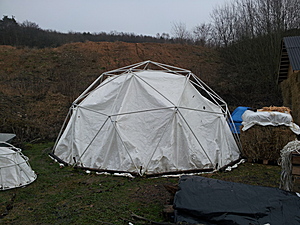 Struts fixed and canvas put up again
Finally replaced the broken struts and hang up the canvas again.
The next days some snow is expected, and I gonna observe how snow might remain on the PE canvas, which previously caused the collapse.

After a warm and rainy night, most of the snow is gone, and I was able to detach the PE cover and inspect the broken parts in details:
2x A: got overbent
5x B: 2x got broken, 2x ends got brittled, 1x got overbent
so totally 7 struts need to be replaced. Also some long screws which connect the ends and operate as hubless connections got bent but did not break.
Needless to say, the PVC conduits geodesic dome is a very low cost approach, but also moderately stress resistant.

I was away a few days, and came back just after it began to snow for 9 hours, heavy humid snow, apprx. 10-15cm thick, with a bit wind. Usually with PE snow slides away, but with a dome there are some area which is rather flat, on the top, so that's the result of unattended temporary buildings as 2v geodesic dome with 25mm diameter PVC (temperature range of -5C to 60C): collaps.
| | |
| --- | --- |
| 5m 2v geodesic dome with 25mm PVC pipes collapsed | Putting up the skeleton: 2 broken struts |
Given apprx. 30% of surface might have been covered with 10cm heavy snow, apprx. 20-25kg rested on the dome so my estimation, too much for the 25mm diamater PVC struts. Theoretically the hooks should have opened, and the dome skeleton remain intact; in other words the hooks were designed too strong and should have been weaker. So, part of the top pentagon, surrounding B's, two of them, broke - alike at the snow storm where one B broke. Additional at least one strut end got brittle, and requires to be replaced as well - so at least 3x B need to be replaced.
As soon the snow and ice is decreased, I gonna replace the broken struts and put up the PE canvas again.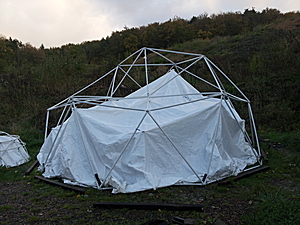 One strut broken after the storm, two edges folded inside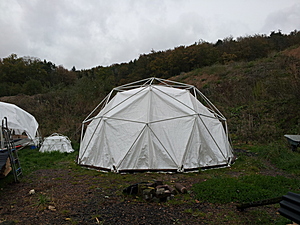 Dome repaired
Last night the storm "Gonzalo" rolled over western Europe, bringing a temperate drop of 10-20C and winds of 100-150km/h (65-100mi/hr) - the storm began 18:00 and lasted to 21:00, with a few very strong gusts which pushed the dome and one strut broke, 2 or 3 "wire hooks" opened (should have happened, they were designed as such), one "wire handle" detached (should not have happened). The dome was otherwise sufficiently anchored, and also the PE rain cover on the ground remained fastened.
So, one B strut with 1.565m length needs to be replaced, otherwise no other parts got broken, the wire hooks can be re-attached easily again. So far the dome did well, given the only 25mm diameter PVC struts, and the rather strong storm which occured over the period of 2-3 hours. Surely a metal-based struts the dome would have not given in at all.
The closeup of the broken strut shows it actually broke and not just overbent, this likely due the lower temperature during the storm, apprx. 10C - likely with lower temperature and strong winds or storm more struts might actually break and not just overbend.
The 4m diameter LC Dome in the background withstand without problem (the 5m diameter LC Dome wasn't stable and folded with a much weaker storm) - the difference of 4m vs 5m diameter dome is significantly.
After more than 10 days trying to straighten the bent PVC pipes I gave up as they still remained bent - too much for my taste. So I've got new straight ones and finished the 3rd stage:
and put up the rain cover, attached at the corners, and at the base double: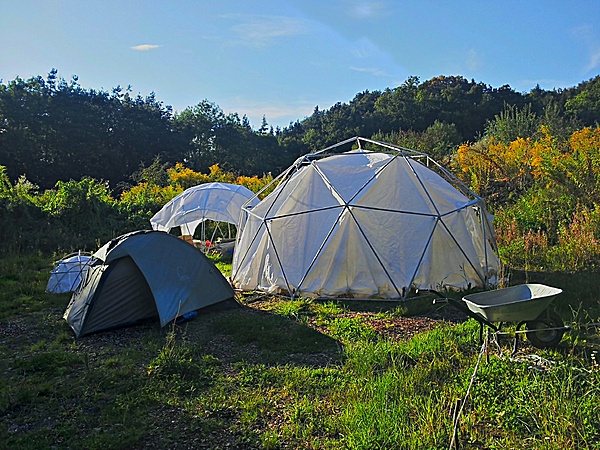 5 Tents (left to right): 1) LC 4:x:2 model dome, 2) 2-man camping tent, 3) 4m LC 3:3:2 "storage" dome and 5) 5m 2v icosa gedodesic dome
Moving the LC 3:3:2 4m "storage" dome to make place for 5m 2v icosa geodesic dome last 3rd stage: For the 6x way edges I used M4 x 60mm screws, the longest I've got - it was challenging at first, but realized to screw already without nut and squeeze the first 4-5 pipes, before putting the last underneath.
Still need to wait for the other pipes to straighten out, then the last 3rd stage the bottom ring I attach. For lightweight geodesic domes it's fine to start at the top, and attach the pipes or struts as you go - heavier and larger geodesic dome might be more suitable to build from the bottom up, eventually portable ladder or even a crane is required.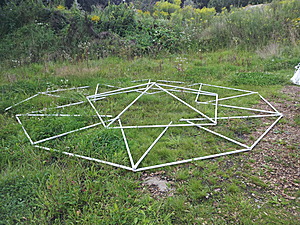 2nd stage of 5m 2v icosa dome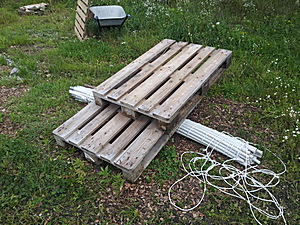 Bundled and straighten with some weight from 2 wodden pallets
Yesterday I prepared 35x pipes, to 20x A and 15x B - and layed it out.
The M4 x 50mm screws are too short for 6x edges, for 5x they are sufficiently but only with a lot of effort. So, it's M4 x 60mm or M4 x 70mm required, even though after fastening it might use only 50mm length.
The final stage I use PVC pipes which were used for a LC Dome, and all of them were bent and remained bent after dismantle the LC dome - and now straighten them so I can use them again.

I started with cutting 5x A (1.386m) and 5x B (1.565m) from 2m PVC electric conduits - with the holes 1cm offset at the ends: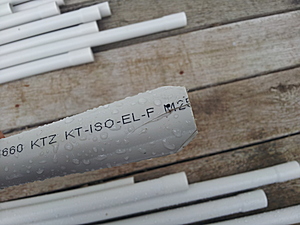 Broken PVC while mangle a hole with an awl
I broke one pipe while using the awl to mangle a hole - fortunately it was a B so I can cut it shorter and use it as A - it takes some care to mangle the holes.
Simple Stress Test
I pushed with apprx. 40-50N or 3-4kg on the tip of the segment, and the pipes formed an S slightly - such a single push is unlikely with winds as winds push the entire exposed region.
Reminder for non-metric people: 1m (meter) = 100cm (centimeter) = 1000mm (millimeter)

I explored a bit further on the hubless approach, the recent tests were not satisfying, but today I think I've got a suitable hubless solution:
using an awl to mangle a hole: the material is pushed inside, and strengthens the hole when screw comes in, a drilled hole would remove material which could be still used
since I squeeze the end fully, but but at the hole - the material from mangling the hole with the awl doesn't get into the way
following procedure I came up with for 25mm diameter (~ 1 inch) PVC pipe:

I press about 3-4cm at the end with a cramp
mangle the 4-5mm hole with an awl at 1cm distance from the end (caution: cold PVC might break, mangle hole at 20C° / room temperature)
cut away edges, forming a "duck beak" thereby: it has two advantages: 1) edges are gone which would poke into other squeezed pipes, 2) squeezing is easier when mounting struts/pipe together

I use M4 screw and 40-60mm long, each pipe is about 7-10mm thick at the hole, therefore 5x or 6x 7-10mm => 35mm to 60mm long M4, likely get M4 x 50mm
the "duck beak" approach also allows bending just near the hole, and won't give a fold (which might break under stress)
Hubless Approach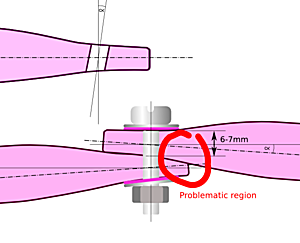 Tilted drilling hole, not fully squeezed
I still consider the hubless approach, trying to avoid the folding and risk of breaking: the idea is not to squeeze fully and leave some slight oval profile remaining, and compensate the angle and therefore drill at a particular angle already instead perpendicular and then bend.
The planned 2v Icosa geodesic dome the struts have 15° and 18° - so I gonna make some more tests to see if this solution is feasible.

Zip Tied Hub
On the net you find ZipTieDomes.com

which use two short pipes, something like this:

PVC Hub: Zip Tied with 2 pipes
It's a nice setup but it's a bit more overhead: 2v icosa has 65 struts, which makes 130 zip ties (both ends), which are cut when the dome is taken down.
I did some simple testing with the 25mm diameter pipes, with a 2x metal support ring (sharp edge away from PVC tube), and moved the folding for 100x until one side broke:
It certainly won't work for long term, e.g. more than a year and with constant stress; but for a model and a simple installation without mechanical stress it would work.
After 6 years I do some further tests this time with 16mm and 25mm PVC conduits (with some tape residue) instead of bamboo:
The focus is for a 2v Icosahedron (65 struts) 5m diameter geodesic dome, hubless or with a dedicated hub:
Hubless Approach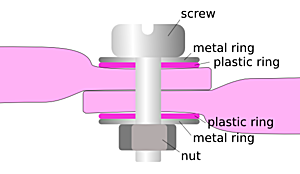 PVC Pipe Hubless Connection
It's obvious the screw and the nut end require a support ring so the squeezed area extends larger - and even then it might cut into the soft PVC pipe, therefore a 2nd plastic ring is required, something like this:
screw
metal support ring
plastic support ring
squeezed PVC pipe(s)
plastic support ring
metal support ring
nut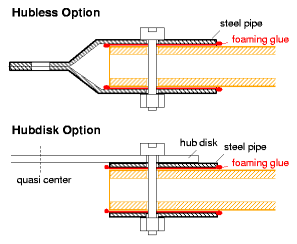 Bamboo / Conduit Combo Options
It has been almost a year since I pondered on the connectors for bamboo, because it seems it wasn't that easy to find something suitable.
At Bamboocraft.net

has been a discussion

with different approaches, yet, none really is convincing.
Discussing with a friend of mine, who is a locksmith, brought up this design as the illustration shows, using a special foaming glue.
The glue, named "Fermacell 59010", is slightly foaming or expanding and seals the 1-2mm gap seamlessly - as a few tests have shown:

One bamboo I cleared using a cutter to remove the glue and see small bubbles, whereas the other the overflowing glue remained as comparison. For the first tests we dented the steel pipe, and in one case too much where you see the bamboo split - which should be avoided.
Hubless: the screw could be removed, yet, then the static would solely rely on the glue, which could get brittle with the time, and a big surprise happen - so rather use a screw to fixate pipe and bamboo and have the glue as soft junction between two different materials.
Hubdisk: the issue with this option is, that it can only used for large and fine-grided (high frequency) domes, as the angle how the struts reach the hub has to be small enough so it can be provided by the hole/screw itself, and not via the disk itself.

Bamboo / Conduit Combo
I hope to keep the light bamboo as struts, but find more stable or rigid connectors. The idea of making 92 joints or hubs could be also considered, yet, bamboo has a range of diameter, from 10-18mm approximately.
One idea is to use two kinds of metal tubes like electric conduits of 8mm and 10mm diameter, and either drill 8 and 10mm holes into the bamboo, and glue it into and stabilize it with a screw. For the few struts with less than 10mm using the 10mm conduit and move it over the bamboo.
And then squeezing the end of the conduit and drill the 4mm hole for connecting the struts then.
Will make a test of an A/B-pentagon to see who long the conduit requires to be, and also measure all struts diameter to see how much material of 8 / 10mm conduits I require.
Update 2008/04/07: to use the pipe within the bamboo poses a slight risk of breaking the bamboo, as the inside of the bamboo is soft and rather weak: you can break the bamboo easier from within than from the outside; so it rather suitable to use the pipe surrounding the bamboo instead.
I stayed two nights in the dome, actually a wonderful experience with so much space, the spherical space makes an alike sacred impression as the tipi does, an cathedral like awe I've got. I gonna miss the dome, and will work for a stiffer but still lightweight solution using bamboo - as I like to avoid steel pipes which would make the frame too heavy and too hard to pitch up without additional tools, not to mention the inability to lift it up and move around when erected.
The dome I took down by just unscrewing 5 or 6 connectors, and took it away like a collar, and folded it in itself as far possible - and later unscrewed all connectors on the side.
yurt
again.
With the current setup with soft-pipe as connectors the skeleton is too weak, and the sun heat softens the pipe further - so much that tying the rain cover to the ground pushes the top down - so I likely will take the dome down much sooner.
I definitely require to find a better connector for the bamboo, the softpipe might only work with smaller domes and average temperatures.
Things learned with this test pitch-up:
the higher the frequency (e.g. 4V) the more precise and less threshold allowed, e.g. soft-pipe connector might work much better with 3V and 2V icosahedron-based domes.
connector with PE is stiff and might work at lower temperature (<20°C), but when 40°C gets very soft
more "weight" due to fixating the rain cover (pulling down with cords)
moving the dome requires stiff baseline, at least 3 people to move (at 6.4m diameter)
the rain cover and maybe even the interior cover could be simply circular, and left over due the spherical wall can be done via folding
Update 2007/12/14: CONBAM.de

, german bamboo expert, has special connectors for more stable and large domes.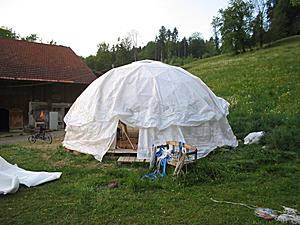 Preliminary Dome Setup (no ropes and fixations)
Today I switched from
the yurt
to the dome - I took down the yurt and moved the skeleton of the dome on the same interior (both yurt and dome having ~ 6.4m diameter), finally we were 4 people moving, not neccessarly because it was heavy but clumsy to move.
Errecting Dome
It took me a couple of days to erect the dome, usually it's a matter of an afternoon (4-5 hours) but it was so hot the last days I worked only early morning and evening before sunset. We had also some rain, which wasn't so good for the fully exposed skeleton - anyway.
I also use a skylight frame so I could reuse the skylight from the yurt. Finally, before I actually decided to switch I put over the rain cover of the yurt on the dome.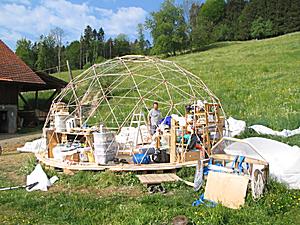 Dome skeleton moved on floor & interior (me inside)
Moving
It took 4 people to move the skeleton as the base tended to fold inside, and 3 people might have worked too with some skills but finally with 4 people we did it. The skeleton itself is rather light, apprx. 40kg I think total. Once we had it over the existing floor and interior and moved it over the shelves, I had to move some interior further into the center, 10-20cm apprx., due the spherical walls.
Interior Cover & Rain Cover
Since I use the yurt covers (interior & rain) I had to use a cord which I tied on the height of 1.50m apprx. which is also the center of the A-pentagon - on that cord I tied the interior cotton, as first layer from outside. As next I added the yurt rain wall, also tied on the same cord - and finally put on the roof interior cotton, and then the roof rain cover from the yurt.
Skeleton
The skeleton with bamboo is strong, yet, the soft pipe junction are weak and soft, too soft. I don't expect it withhold a storm and make a tend (push a junction inside). The cable binders aren't that strong either, and while moving one teared apart, so I might have to use 2nd cable binder for all endings, at least on the west side where storms usually come from. I was aware that the bamboo/soft-pipe combo was only suitable for a lightweight setup, rain cover and cotton interior I reused from the yurt setup, and now realize I won't able to add another layer unless I would choose another strut endings other than soft pipe.
The reason I use soft pipe was I could use them to various diameter as the bamboo came, 15-18mm - so I'm looking for other options.
Anyway, I'm expecting to stay a couple of weeks inside the dome, but as far I can see won't last longer and then switch back the yurt.
The next things to do:
fixate the rain covers
add 1.7m height door (I already did for a yurt)
So, finally again raising the dome, and checking if I can use part of the yurt setup, such as a skylight (octagon and a bit smaller than the top 'A'-pentagon) and this allows me as a first step to reuse the inner cotton cover (roof & wall) as well rain cover (roof & wall) of the yurt. If all does well, I will switch the yurt for the dome sometime this weekend.
I noticed moving the dome is problematic due the base not being stable when it's not pushed on the ground, it bends inside and the entire dome looses its form - so I will stiffen the bottom connectors so the circular base is kept in shape so 3 person can lift it to the existing floor where my yurt sits on now.
Today I coated the 250 struts with white semi-transparent paint, so the bamboo struts are brigther and don't heat up so much anymore in the sun and reduce the risk of splits.
I'm also about to finalize the connector reinforcement construction and updated the previous illustration with the new design. Next days I will make a few tests with the construction, and if the weather allows it raise the dome within the next week.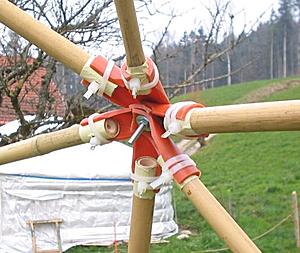 Existing Connector (Closeup)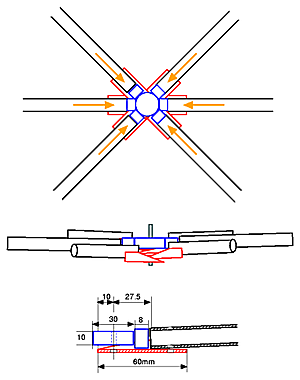 Connector Extension/Reinforcement
As I discovered with the first dome skeleton erection that my LDPE do good with bending, but a bit too much of elasticity for pushing, which allows then to dent the construction with little effort (apprx. 10-20N push ~ 1-2kg) direct on the connector (whereas area push withstands far more force, not yet measured), with this extension as illustrated I add a wooden construction, a wooden star to limit the LDPE elasticity for pushing force(s) only.
The wooden star would be composed by:
center hub: 30mm diameter, 10-15mm long hardwood
spike: 8-10mm diameter/width, 15mm long hardwood or softwood
Since the struts are slightly bent, apprx. 8-9°, I leave 2mm as spacing, but final length of the spike will be measured on the erected dome again.
Total 91 connectors, where as the bottom 20 connectors (4-way) I wouldn't enforce:
6x 5-way (connecting A's)
65 6-way
total 71 connectors
Total requirement of wood:
71x 15mm = 1.065m x 30mm diameter hardwood
6x5 + 65x6 = 410 x 15mm = 6.150m x 10mm diameter/width hard- or softwood
So, this is the plan for reinforcing the LDPE connector so far, I will of course think it over again and make small tests, e.g. the 8mm spike is small and some will enter the hollow bamboo, so maybe a small ending of larger diameter is required.
The connector could be also stronger if I wouldn't have left 27.5mm but less, maybe 15mm could work too, or a whole pipe not a half but this would require a single diameter strut and with bamboo this is not possible - so it's likely worth to reinforce and find a strong connector solution in order to build the skeleton with lightweight but strong and rather cheap priced bamboo sticks.
Since we expect rain and snow the next days, so I already took the dome skeleton down, took me roughly 2 hours - I also wasn't able to take down the dome the way I planned before, I realized to keep some of the structure intact was too complicate (e.g. keep A-D combo together), so I finally disassembled the entire structure to each single strut.
But before that I measured the dome:
diameter: 6.30m to 6.48m; best is to draw a circle like when pitching a yurt, to fit the bottom level (D) on that circle, actually the connectors
door option I discovered a better way than thought before: taking the E triangle, and make a rectangular door, 1.70m high and 1m wide, 5 struts removed, none cut or so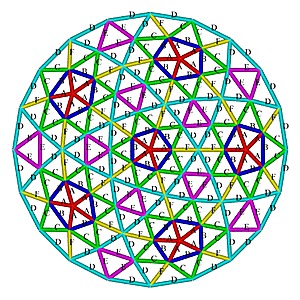 4V Construction Map
I decided today to raise the skeleton of the 6.33m 4V geodesic dome I did - so far Roger and Gabriella joined me, two who discovered my web-site and approached me with their own plans to live in domes.
Pitching the Skeleton
I decided to build top to bottom, means, level by level until the bottom is reached - since the entire skeleton is apprx. 40kg it was easy to lift it for the last bottom level.
The construction map on the right helped me to lay out the struts on the ground and level by level attach them and screw them together. Roger helped me and it took us about 4 hours.

Some Impressions
First conclusions & experiences:
the LDPE pipe is flexible as expected but it allows to push the 5xA into the dome with little force - so it's not suitable for whole year application (e.g. snow on the roof) but only for spring to fall, so I'm not sure to reuse the yurt thermal insulation due its weight, I may give a try. A storm may make a dent into the structure, but unlikely make serious damage
for a full year applicable bamboo based geodesic dome a different connector approach is required, one which cannot be dented
| | |
| --- | --- |
| L3 | 4V Fuller |
| A 0.27590 | A 0.25318 |
| B 0.28547 | C 0.29453 |
| C 0.31287 | D 0.31287 |
| D 0.32124 | B 0.29524 |
| E 0.32492 | E 0.32492 |
| A 0.27590 | F 0.29859 |
| 17% variance | 28% variance |
After working a lot on geodesic polyhedra the last two or even three weeks, and finding out why my L3 variant of the Icosahedron didn't provide the same strut lengths as those from B. Fuller (via DesertDomes.com

) I realized that while doing the L3 from the L2 (geodesize an already geodesized L2/2V) that the strut lengths had less variance.
L3: 5 strut lengths, 17% variance
4V: 6 strut lengths, 28% variance
I summed up 1/1000th or 0.1% variance of length to the same strut, so I ended up with 5 strut lengths, the 4V could also have 5 strut as two strut lengths are so close but not as close as the L3. But the variance difference is quite obvious and it would mean to have more alike triangles and probably also less waste (which I have to proof first). Anyway, I already have cut and assembled all struts, I won't change it - but for another and future version I might prefer the L3 over the 4V variant.
Ln vs nV:
Ln creates more alike struts - less variance, and it seems less strut lengths even
nV provides more fine tuned triangulation, e.g. 3V or 5V, whereas L1 = 1V, L2 = 2V, but L3 ~ 4V, L4 ~ 8V etc.
Pitching the Dome
The last days were very sunny, but night and day temperature difference up to 15°C which I like to avoid to expose the bamboo struts - as I would expect them to crack more likely. So I likely wait a few more weeks before I make the first pitching of the dome skeleton.
Content: