written by Rene K. Mueller, Copyright (c) 2005, last updated Fri, January 2, 2015
Updates
Fri, September 9, 2005: Included the tipi upgrade with photos .
My diary in reverse order (newest entry top, oldest entry at the bottom):
Today surprise, the winter is back - after a few days of rain the temperature dropped and it got 15-20cm snow again - beautiful, yet, it's getting time for spring!
The first dry days, and I "smoked" the tipi, a bit too much as the PE extension wrinkled due to the heat, and I had to cut it away, and redo the extension (3.6m -> 4.8m) again, probably with new PE white or green, or I find a source with reasonable priced polyester/cotton canvas, let's see.
I leave the poles as I don't have space to keep them under a shelter. The poles will be taken down later and then I erect the tipi at a slightly different place so the space I used the summer and winter can regenerate.
I didn't had the chance to take the tipi down, either it was raining or covered by snow or ice. The last days have been cold at night at -5°C and 3-4°C at day, which is unfortunate as the humidity remains in the cotton canvas.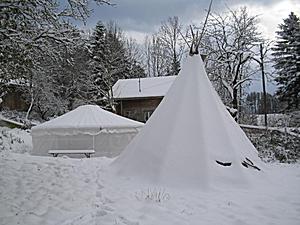 Winter Time
Well, that's happening when someone is postponing to take down the tipi: you end up with a snow covered tipi!
I will at least remove the inlining and wash it, as I had mice inside or benath my bed and they also dirten the inlining. Let's see how good the insulation now is.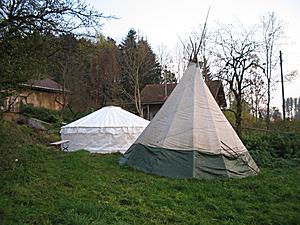 Tipi, my summer residence; Yurt, my winter residence
I moved my sleeping bag and insulation mattress into
my yurt
and spent the first night in it - the next days I move other interior from the tipi to the yurt and take then down the tipi.
Content: