Site Search


If you found the information useful, consider to make a donation:
Here a couple of photos illustrating the native american setup of tipis. It would be interesting to see how the particular reed tipi was made up.
Sources:
National Archives (USA)

,
National Park Service (USA)

,
Library of Congress / Northwestern University Library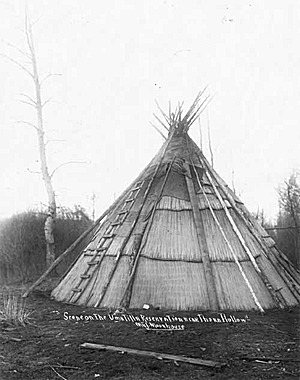 Reed Tipi, Cayuse Tribe, Thorn Hollow, Umatilla Reservation, photographed by Thomas Leander Moorhouse, ~1900
An interesting part on all tipi photos are that the main canvas reaches 0-5cm (0-2") to the ground. This indicates the regions where those tipis are pitched are very dry with little rainfall, as otherwise the canvas would not reach so low, but have 10-20cm (5-7") space which reduces mould and moose growth on the canvas. The inlining inside of course should go on the ground. Another interesting option of a tipi is the one either made of or covered with reed mats, e.g. those of Cayuse Tribe, there some poles are used from the outside to fixate the reed mats - and might have chosen to protect the canvas underneath. The question arises, whether below are buffalo or cotton-based canvas, and how the moisture after a rain behaves in between. E.g. in Europe with frequent humid climate from spring to late fall, the humidity poses a challenge in shelter construction.
The similiarity is close, from reed mat based tipi to a grass house as seen here:
| | |
| --- | --- |
| Old grass-house (Wichita) 1927, photographed by E.S. Curtis | Interior of Wichita grass-house 1927, photographed by E.S. Curtis |
"The Indian Tipi, its history, construction, and use", 2nd Edition by Reginald & Gladys Laubin ISBN 0-8061-2236-6
Sources to purchase tipis, and/or more information about tipis:
USA:
Germany: Indianertipi.de , e.g. 6m tipi incl. inlining € 650 (without poles)
Czech: Ares.cz: Historical Tents , 6m tipi incl. inlining € 677 (without poles)
Switzerland: Tipi.li , e.g. 6m tipi incl. inlining € 950 - 1500 (without poles)
UK: SpiritsIntent.com , covered structures, nomadic dwellings, alternative homes, canvas tents
UK: Hearthworks Tipis & Yurts , sale and hire of tipis and yurts, event production, kyrgyz yurts
UK: Stunning Tents , tipi alike tents (incl. one pole tipis) with accessories
(End of Article)
Content: