written by Rene K. Mueller, Creative Commons CC BY NC 2014, last updated Sun, January 18, 2015
The next days the weather forecast predicted thunderstorm and rain, so before the evening I thought to
measure the rain cover (8m x 10m is actually 8.0m x 9.75m)
cut the rain cover (8.0m x 8.0m)
and start to hang up the rain cover
which I did:
and the expected thunderstorm at the evening did not arrive, instead it came at night.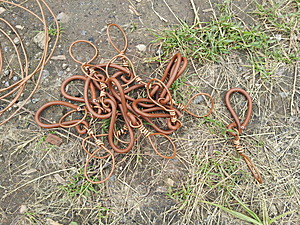 Bottom Wire Connectors (without cords)
Conclusions:
even though I only fasten 2/3 of the rain cover, the overall stability of the dome increased => rain cover adds to static of the dome
my theoretical considerations and plans did work as expected, the hooks worked, and the bottle cap based captures / fasteners worked too
as said, do not pitch a dome 2/3 without anchoring, it will fly away at storm
Ghostly Connector is composed by
9-10cm x 9-10cm PE patch with a bottle cap, sufficient "tail" for the zip-tie
4mm zip tie, and
with 30cm long 3mm cord with a knot at the end.
| | |
| --- | --- |
| Ghostly Connector (1 of 2) | Ghostly Connector (2 of 2) |
The Protection Patch on top of the rain cover is about 8cm x 8cm PE patch, just covering the bottle cap.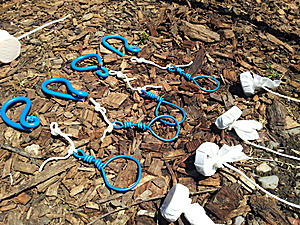 Wire Captures (with cord)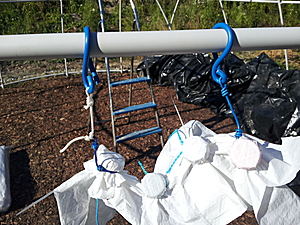 Wire Capture (with & without cord)
The
Wire Capture
is a 1.5mm diameter blue insulated wire, apprx. 30cm long and then formed accordingly by hand.
For the 5 top connectors I used a cord in between, as the dome is 4.95m in diameter, and 2.65m high, slightly elliptic or egg like - which means, I like to compensate a bit and make the top connectors longer for the rain cover, hence the cords, but on the more vertical connectors I connect the Wire Capture directly on the Wire Hooks.

Since it's my first setup I will use the Wire Capture, which allows me to open and close the capture easily and reposition it without hassle.
While testing I saw the PE rain cover brittles a bit already with multiple fixations and releases, therefore I thought to add a "Protection Patch" on top, apprx. 10cm x 10cm to wrap around the bottle cap.
The "Ghostly Connector", where I use a zip tie so I can use a cord to manage the distance from the capture to interior cover and also protect from possible sharp edge of the bottom of the bottle cap.

Some considerations how to attach the rain cover, using a "capture" to hold on it:
Wire Capture: a wire circumvents the capture, and ability to open and close manually; ideal for experimentation to open and close often
Cord Capture: most simple, the pull fastens the capture further; ideal for lasting installation
Zip-Tie Capture: zip-tie must have no sharp edges (cheap zip-ties do, avoid them); ideal for quick setup and lasting installation (opening zip-ties is difficult, to cut them apart be careful not to tear the cover)
Capture Options: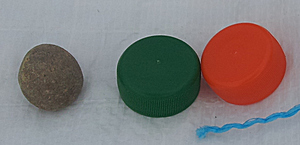 Captures: Gravel, Bottle Cap
Gravel: + easy to find, natural, lasting; - unpredictable size
Bottle Cap: + easy to find, predictable size, flexible; - might disintegrate with time

Here the real-life tests with bottle caps:
Close-ups:
Here the options I came up with in regards of hooks:
Clip Hook: "OBO Quick" apprx. 20N or 2kg force until release
3D Printed Hook: I thought of designing exact hook which can slide unto the pipes but hard to take out again - the thickness would mainly determine the strength
Wire Hook: 3mm diameter insulated copper wire, easy to form and open and close, unknown force until release (need to test it)
Currently using the "Wire Hook" variant for the 4:x:3 5.1m Dome with 2m x 25mm tubes.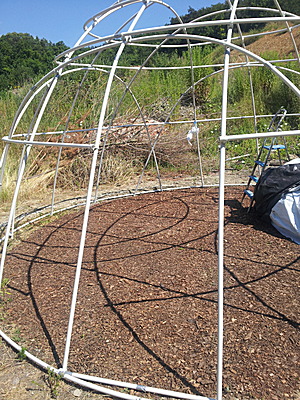 Door Opening (7a ring cut off)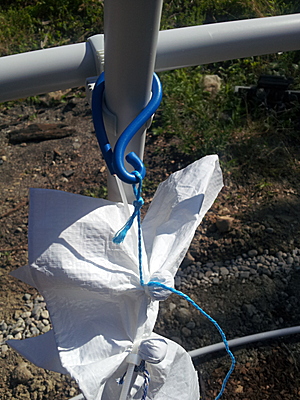 Wire Hook experimentation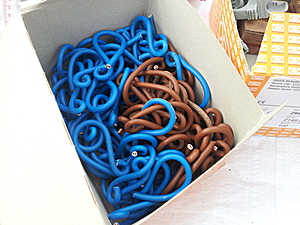 60+ Wire Hooks
Yesterday I fine-tuned the rings a bit, and came up with an elegant solution: I lowered the 7a ring, but left one section open where the main entry will be. Lowering the 7a ring improved the overall stability of the dome; as you may have read in the earlier entries, I wasn't so impressed using 25mm diameter 2m pipes for 4:x:3 setting, too wobbly at first, but with the additional rings holding the dome together the overall stability improved. As written before, increasing the diameter to 32mm or even 40mm pipes seem not feasible, as their fittings are still only 30mm long, which makes the intersection very weak for bending to a bow.
Additionally I worked with a strong insulated wire to form a hook to attach later the rain cover, easy to put on and also easy to take off again, yet, also being able to "break" there in case of heavy storm and rather not take down the entire dome, but just the rain cover disconnect.
I also experimented on ways to attach the rain cover itself, and I tend to use a zip-tie, and some cord to attach the hook - not yet finalized. I play with the idea to use PET bottle closers, they kind of flexible and don't have sharp edges, and due their defined size, I can calculate the amount of cover wrapped up, whereas using random gravel vary with the size. This issue with loosing length of the cover became an issue, as PE cover sold says "8m x 10m", but essentially is 5% smaller, which makes 7.6m the shorter length. Now, going more into the details, the offset in which the rain cover hangs inside is determined by the size of item I wrap the cover around - and the more predictable the size of that item is, the better I can estimate it: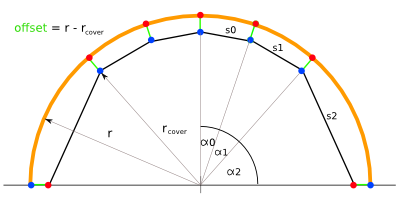 Cover Attachments
I prepared the base where the final dome will reside, a bit of sand and wood chips on top - around a small drainage to make way for water in case of heavy rain.
This time it worked better, likely because the ground wasn't that tilted as the first time I pitched the 4:x:3 dome.
Conclusions:
less slope or tilt allowed me to pitch the dome better
considering to add a 4th ring, a partial one, 7a at the 50cm height from the ground, and leave one 2m open (or 1m) for the door or entry
requires 2nd 100x M25 "OBO Quick" clips for the 3 or 4 rings, will improve the stability, in total 44a + 7a + 6a + 5a + 4a = 66a tubes.
3.8m 3:x:2 is ok for camping but not longer or actually living inside, 5.8m is a good size (requires a ladder to add clips to bind the crossing bows)
Comparison 3.8m vs 5.1m
| | |
| --- | --- |
| LC Dome 3:x:2 3.8m | LC Dome 4:x:3 5.1m |
Today I used the existing 2m tubes to do the 3:x:2:
a = 2m x 25mm
A = 3a = 6m
h = 1.91m
d = 3.82m
32 tubes + 4 tubes for 1 ring = 36 tubes, 2m x 25mm PVC tube
6m x 6m PE rain cover
100x M4 nuts & screws (M4x16mm)
The Ax I could do with the cut a tubes for the 4:x:3 - so the nice thing is, since I looked for as little cuts as possible, I was able to put together 3:x:2 (3.8m diameter) from the 4:x:3 parts (5.1m diameter), plus 4a ring on the top.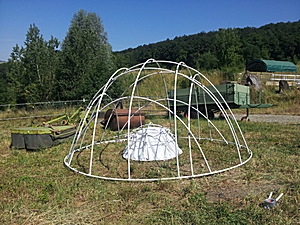 Asymmetric B bow to provide space for a full height door to enter dome
Since the B bow is rather low to step into the dome, I tried a slightly longer B (4m) + 1m = 5m, where A is 6m.
As you can see there is quite some tension of the B bow (2a = 4m with 25mm is quite stiff), so I extended the B (2a => 2a + 50cm):
but it didn't make a big difference so far.
Conclusion:
3:x:2 with 2m x 25mm gives a more solid dome, actually working
2a B bow has some tension, the tape at the fitting is a must
many tubes were slightly bent from yesterday's 4:x:3 dome setup, they might eventually get straight when left alone
Yesterday purchased 60 x EN25 (2m x 25mm PVC tubes) at EUR 1.30 / pc at
OBI.de

, but used the M25 "OBO Quick" clips at
Bauhaus.info

, 100 pc EUR 15.60.
Here the numbers for this dome:
a = 2m x 25mm
A = 4a = 8m
h = 2.55m
d = 5.10m
44 tubes + 8 + 6 tubes for 2 rings = 58 tubes, 2m x 25mm PVC tube, apprx. 1.30 EUR per piece (source OBI.de , 2014/06), 75 EUR
8m x 8m PE rain cover (8m x 10m actually), 60 EUR
100x M4 nuts & screws (M4x16mm) = 10 EUR
100 x "OBO Quick" tube clips M25 (source Bauhaus.info , 2014/06) = 16 EUR
zip-ties (150mm x 3mm, 200mm x 5mm industrial standard) and 1.5mm, 3mm cords to bind & connect things, 30 EUR
total cost apprx. 200 EUR (interior cover not yet included)
And this morning began to assembly the skeleton:
Conclusions:
did not cut off the fittings at the one ends of bows, as those 0.03m do not matter at 8m entire bow
2m x 25mm diameter PVC tubes for 5.1m dome is wobbly, considering for the full A bows (4 x 2m) using 32mm or 40mm diameter PVC tubes, which require then also other "OBO Quick" clips
the ground has slope, entire dome leans on one side
top rings are 6a, 5a, and 4a look nice
100x M25 clips were not sufficient to attach the additional rings
Time to photograph the final result of the model:
Before doing a full size version of the dome, I thought to test my calculations and choice of material with a small scale 1.27m diameter dome.
Measurements
height: 67cm (25")
diameter: 127cm (50")
Material
12 x 2m x 16mm PVC conduits (cost ~10 EUR)
100 x "OBO Quick" 16mm clip-in connectors, (cost ~10 EUR)
ca. 2m x 2m PE white cover (actual size is 1.83m x 2m), (cost 7 EUR)
total cost apprx. 30 EUR
I've got a 2m x 3m PE white cover, but the actual size was rather 1.83m to 3m, making it a bit short as you will see in the final stage of model:
While I was traveling, I began to make notes on dome built with tubes, either 2m, 2.5m or 3m long PVC conduits - for my own reference I photographed my own notes:
(End of Article)
Content:
Page 1: Notions, Reflection, PVC Conduits, 2m PVC Tube, 3m PVC Tube, Considering Fitting, Temperature Range ...
Page 2: Diary, 2015/01/18: A Bit Snow Again, 2015/01/06: Pitched Again, 2015/01/03: Snow Gone, 2014/12/29: Collapsed Due Snow ...