written by René K. Müller, last updated Fri, October 5, 2007
Chris Aeppli lives in his 7.5m diamater yurt near Winterthur (Switzerland):
7.5m diameter, 1.80m wall height, and
thermal insulated with large hemp blankets (aprx. 2m x 3m) 4.5cm thick,
a strong/heavy polyester/cotton mixture as rain cover, and
on top a cotton layer to protect the rain cover
floor with wood planks, 6cm thick glas wool in a grid, and leveled aprx. 1m of slope using a wood construction.
He used a multi-layered crown-wheel, and round wodden bars at the ends with steel pin which enters the crown-wheel. The lattice wall is made of 3 layered wood, sawn into laths, fixated with bolts. As skylight an acrylic 1/3 sphere.
January 6th 2007, interview by René K. Müller with Chris Aeppli, photos by Chris Aeppli:
How did you get to know Mongolia?
It was a feeling, I had one month of vacation, and decided spontaneous to visit Mongolia. Luckely I had the opportunity to stay longer, so my stay extended to two month riding with the horse through Mongolia, until October 2003. Totally I was 8 months underway, Thailand as well, but it pulled me back to Mongolia and so I stayed another two months in Mongolia and enjoyed the winter there.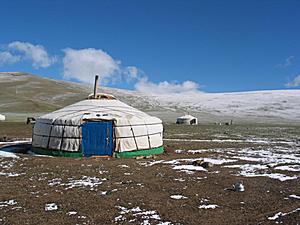 Mongolia Yurts & Landscape (1)
What attracts you there?
The landscape, the charm which you hardly can describe. The people and their lifestyle, the simple life. I had the feeling they are more happy than we are in the west.
What is the nomadic living for you?
That you live in the moment, less constrained, less material oriented and collecting, unfortunatly less "art" like paintings and sculptures. If you move every two months, you are considering twice what you take with you and what not. Close to nature, without all the material overhead.
And how do you translate that kind of living here in Switzerland?
I'm not a nomad, therefore I don't live it in Switzerland. I try to live more the culture, the openness, the hospitality. Taking time for important things, that part of the nomadic living, this is for me what I follow.
You are married with a mongolian, Altai, it seems you have fallen in love in Mongolia quite literally?
First I have been falling in love with Mongolia, and then with a mongolian (laughing). From falling in love to marriage it took 3 years, until I was really sure. Now we are in the summer in Mongolia, and during the winter in Switzerland, because also in Switzerland is my home, because I love Switzerland as well.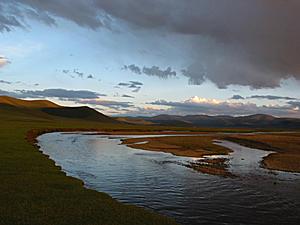 Mongolia Landscape (2)
In Switzerland I'm also organizing the trips; in the summertime I'm in Mongolia doing the trips I offer through my travel agency
Deep Mongolia

. Late summer I travel myself through parts of Mongolia I don't know yet, to discover new routes and places. Sometimes new trips follow which I can then offer through my travel agency. Mongolia is big, there is a lot of things I haven't seen yet.
What can the western culture, Europe or Switzerland learn from the mongolian culture?
Values, for example composure, how to behave to each other, just what's important in life. Togetherness, to accept what's coming into ones' life with a positive attitude - it's kind of difficult to describe those values. Not just running after the money, but to behave in a good manner to each other. Living in nature, and not apart, and we can learn from her.
For example, when I return from Mongolia to Switzerland, I have the sense of a culture shock, I feel limited, a depressing feeling - it takes longer and longer to adapt or acclimatize. It helps me that I live in a yurt, so the feeling of the culture shock soothes faster; it helps to arrive here.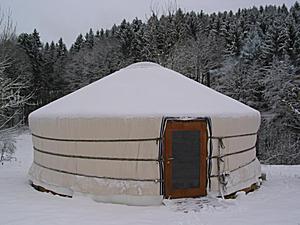 Chris' Yurt (2005)
You are living now in a yurt, you have built it yourself - what's the motivation and your experience so far?
It started with when I was 20, I lived in a tipi through the wintertime. Despite that I lived afterwards again in a "normal" sense, I was mising the feeling to live in a round tent. When I was in Mongolia, I had the thought to take a yurt with me back to Switzerland. Yet, I decided then to build the yurt myself, this was spring 2005.
I didn't want thick walls between me and the birds and their twitter, and the wind and rain, and nature. So I built the yurt relatively quickly. Living in a self-built habitat is a great feeling, it enabled me also to change the yurt setup to adapt this european climat. The yurt is perfectly adapted to mongolian climat, but here in Europe it's significantly more humid and so some changes were applied, such as the skylight, oven on the side, and the outer covers which were suitable for the more humid climate, as imported insulation from Mongolia tends to mould and so I used hempmats as thermal insulation. Also I build the yurt larger than the traditional mongolian yurt.
I haven't regretted any moment that I built the yurt myself, it came out much better than expected, e.g. such as the interior climate is very good, the sense of living out there in nature. One wakes up in the morning and says "Wow, what a beautiful room".
What does Deep Mongolia?
I offer trips to Mongolia, among other offers also horse trekking is available which I lead myself. The idea behind my travel offers is to allow all attendees to be as close as possible to nature, and experience a direct contact with the mongolian culture and nomads. What I like or love about Mongolia I like to make accessible to others, to dive into the life of Mongolia.
Thanks for the interview Chris.
Chris kindly shared with me some of the photos he took while construction and pitching his yurt in 2005 (timestamps of the photos aren't accurate):
.:.