written by Rene K. Mueller, Copyright (c) 2006, 2007, last updated Sat, May 24, 2014
One of the aims I had was also to build a couple of models to see how things are working, including a rain cover.
| | |
| --- | --- |
| Bow Dome Model using bent bamboo split | Bow Dome Model with Rain Cover |
Here the way I did it:
I used 40cm long 4mm diameter bamboo split, and put them into 70-80°C hot water for 10 minutes, then I bent them and used a facility to keep them bent while drying at the sun. After 2-3 hours they dried and then remained in that bent.
I increased the spacing between the bows, from 13cm to 16cm, means from a "pointy bow dome" to a "3/8 sphere bow dome":
Later I extended the bow dome with additional rings to improve stability:
As next I did the rain cover, since I used natural material where the bending was defined by its elasticity I had to take the radius of each 5cm of the bent bow, and calculate the width (c/12) since I used 12 leafs, the same amount as I have bows. So here the styp-by-step:
For real life applications following is to be considered:
crown wheel where the bows are put in
separate cover for the crown wheel, ability to lift it so hot air can leave the dome (like skylight cover for a yurt)
cut out a entry or door in the rain canvas (and thermal insulation if there is any), and use a blanket like for a tipi to cover the entry, e.g. use "klett" or so to fix the door blanket
rain canvas needs to fixated on the ground, so some cord-base handles should be sewed on the rain cover too at the bottom around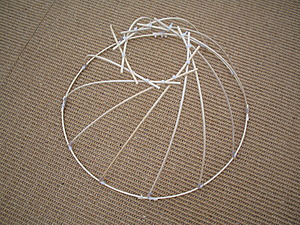 Crownless Bow Dome
As I briefly mentioned on the previous page I had the idea to make a crownless
yurt
, laying the poles over each other in order to have no crown holding the roof poles but the roof poles providing to each other the static.
Here my first attempt, for now I did a bow dome this way, step by step:

The roof poles bend nicely vertically into the crown. I haven't tested the stability of this construction, I just noted that the tying of the roof poles at the top to each other is crucial not to move for a full sized bow dome, e.g. wax cord might be useable, or drill hole to pull the binding cord through it. Bamboo as roof poles in this case is not suitable, as much pressure on the outer surface of the pole occurs, where bamboo will simply splitter.
Would I use double length bow in this case, I would have a 12x2 bow dome, which I will try with another model, in that case the static would improve and also a good alignment for a triangular door.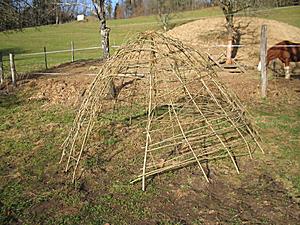 Willow Bow Dome Model
Here a quick bow dome (wigwam styled finish) I did with my friend Melanie during an afternoon. First we planned to do a model but the willow sticks were longer, yet, not long enough to make a real shelter. So we ended up with a very small wigwam skeleton.
Unfortunatly, a few days later we got heavy snow and it pushed the entire construction down to the ground, and since the willow sticks were not fresh some of them broke and the structure was not useable again to make a straw roof as I planned in order to excercise and learn how to make straw roofs.
On the Misc Domes page you find more dome models I did, which eventually will be be featured in more depth later.

On one of my recumbent trips

I spotted this dome, it was a public bath in Fessenheim (Alsace, France) - I was able to access and photograph it, and the bath attendant gave me a short tour:
It's about 35m in diameter, the bows are steel construction - built in 1995 and the steel bows already began rust. They added a steel U to add more stability for the dome as you can see on one of the photos. Such domes are no longer made in France I was told, but over 700 were built through entire France. The dome has no good insulation and therefore a lot of energy usage in the winter time, also when the dome is closed the sound distribution isn't good and it's very noisy as it's common problem in dome constructions.
Here more domes I discovered while traveling. A tent-like approach, unfortunately I couldn't make photos from the side as the door was locked and nobody around to ask to open it:
Dome cluster, likely with cement, a rest room for a tennis court:
(End of Article)
Content: